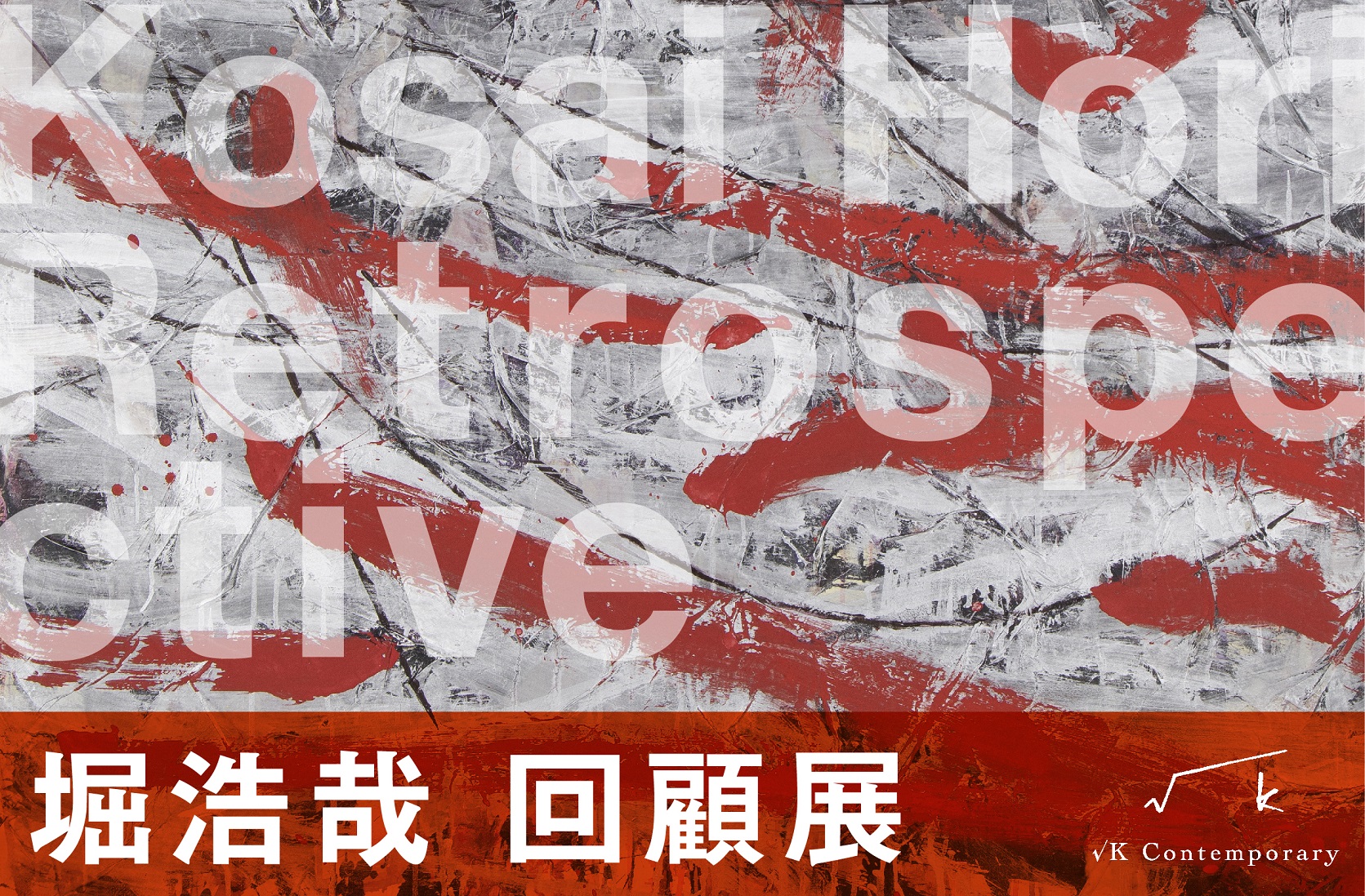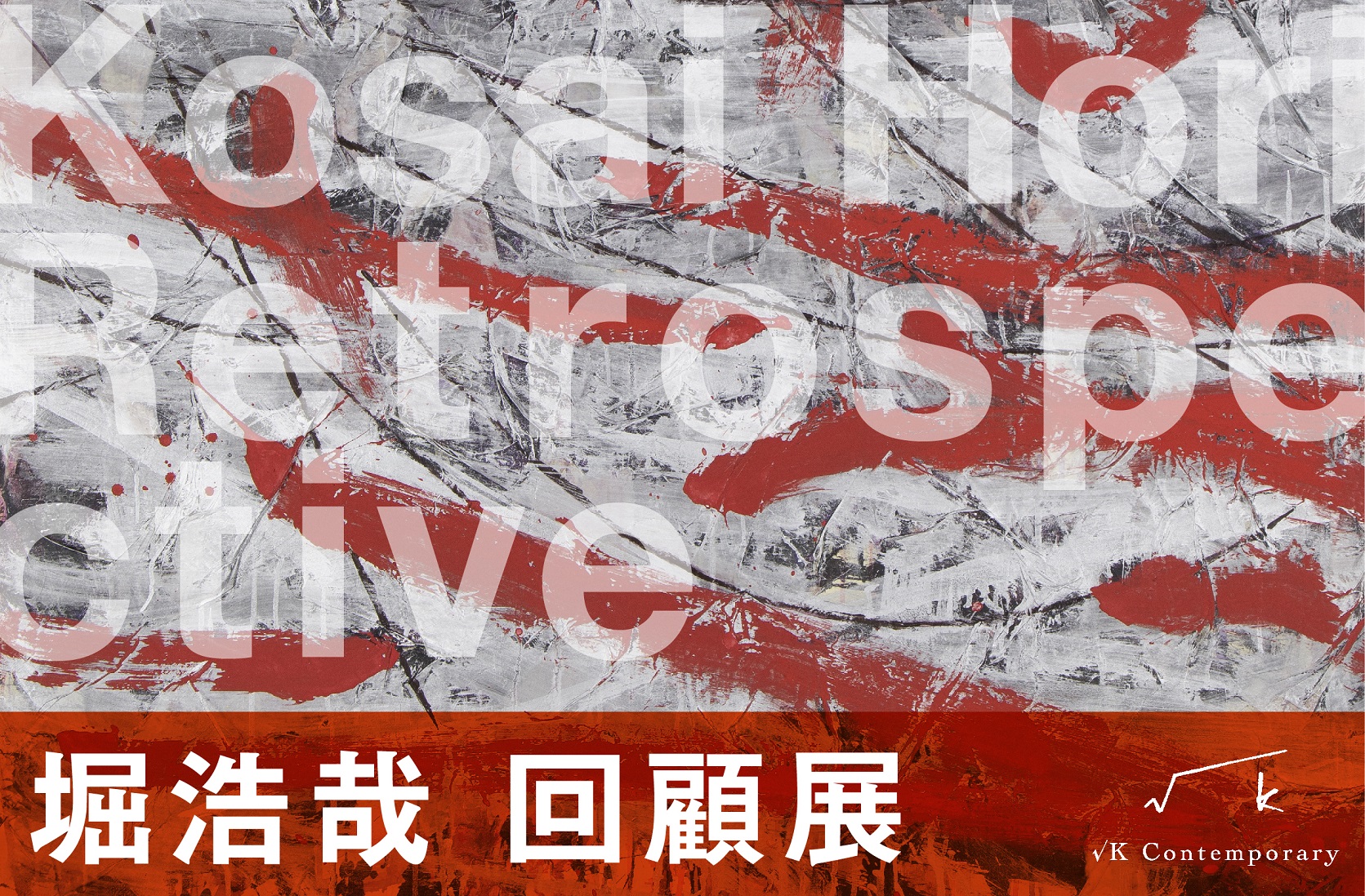 Kosai Hori Retrospective
Dates|2.13 (Sun) to 3.6 (Sat), 2021 (Closed on Sundays and Mondays)
Hours | 11am to 7pm
Admission | Free
√K Contemporary (Root K Contemporary) is proud to present Hori Kosai Retrospective, an exhibition of approximately 30 of Kosai Hori's early to recent works, from February 13, 2021 (Sun) to March 6 (Sat), 2021.
Recognized for leading the liberal artistic movements of his era, Kosai Hori has immersed himself in various forms of artistic expression since the '70s. Tracing the artist's development from his early to recent career, the exhibition consists of two sections, PART I (Early to Mid-Period Paintings) and PART II (Recent Paintings) with a showcase of works that have been widely exhibited domestically and worldwide, as well as never-before exhibited works in Japan.
This exhibition will be held in conjunction with another Kosai Hori exhibition and an installation, and as such, this will be the first-ever attempt to a comprehensive display of Kosai Hori's work.
Hori's paintings are inherently evocative. With strength and lyricism, Hori's lines superimpose upon one another like a ritual recitation. As each line develops into an obscured interlaced surface, each passing gesture embroiders into the composition and, despite its turbulence, transforms into something tranquil and pacified. With this, the exhibition welcomes you to experience and celebrate Hori's earnest exploration of painting.
---
【Exhibition Highlights】
PART I|Early to Mid-Period Paintings: 1978-1991
"Following the "avant-garde" of the 60s, the rise of anti-art, minimalism, and conceptual art in the 70s compelled the complete reassessment and reconstruction of artistic theories. While also creating various performances and installations, with that mindset, I continued to paint…
Eventually, I arrived at the 1980 Portrait of Erize series (Hyogo Prefectural Museum of Art, etc.), one of which is on view at this exhibition.
In 1984, I exhibited my paintings at the Venice Biennale. What is exhibited here is a time when I was entirely devoted to painting." – Kosai Hori
PART II |Recent Paintings, The Garden of the Fall and Rebirth: 2015-2019
"It was a mysterious garden. I planted various seeds and plants from all over the world. Most of them failed to grow and quickly perished. However, some could adapt to their environment and survived by hybridization, through mating with other plants. While these plants were compelled to crossbreed to survive, the garden was undeniably sensual… My wife said to J, "This is the garden of fall and rebirth". For a moment, J was confused, but nodded and said: "that's a good phrase" and continued, stating "Kosai's endless drawings is, too, an undeniable act of fall and rebirth." – Kosai Hori
---
【Related Exhibitions】
Kosai Hori's exhibition of new works at Mizuma Art Gallery, Touching so close and having an openness, and Kosai Hori + Erize Hori's installation piece at Space √K, To Remember — Who am I?, will be held simultaneously with this exhibition. Covering a wide spectrum of Kosai Hori's oeuvre, this is a rare chance to experience the vast breadth of Hori's art through his early paintings, new paintings and installation work.
For details on Touching so close and having an openness, please contact Mizuma Art Gallery.
Kosai Hori + Erize Hori Installation Exhibition|To Remember Who Am I?
Schedule|2.13 (Sat) – 3.26 (Fri), 2021. 11am to 7pm (Closed on Sundays and Mondays)
Venue|Space√K (√K Contemporary B1F)
Admittance Fee|800 yen (Part of the proceeds will be donated towards supporting the Great East Japan Earthquake Reconstruction)
Kosai Hori Exhibition of New Works|Touching so close and having an openness
Schedule|February 24 (Wed) – 27 March 27 (Sat), 2021. Open 12am-6pm (Reservations Required)
Venue|Mizuma Art Gallery (2F Kagura Bldg., 3-13 Ichigayatamachi Shinjuku-ku, Tokyo)
Tel | +81 (0)3-3268-2500|URL: https://mizuma-art.co.jp/en